In the hit Broadway musical Come From Away, Geno Carr MFA '05 summons the acting chops—and the empathy—he honed at Sarah Lawrence.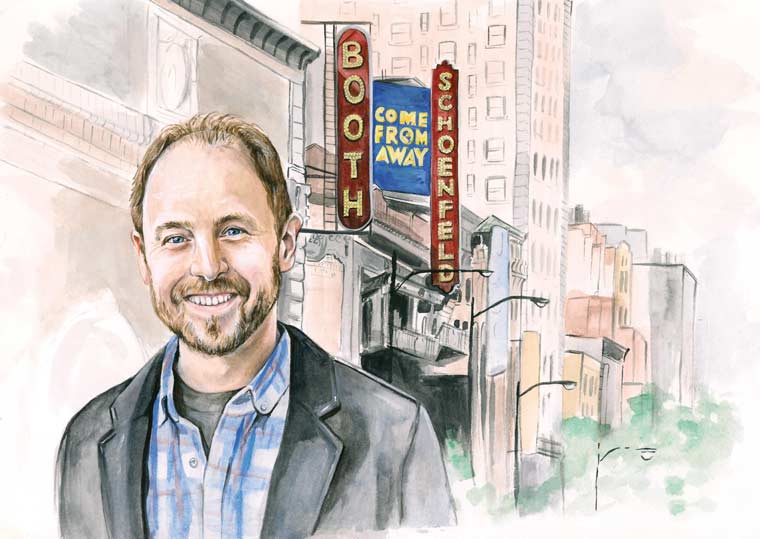 When people from all over the globe converge on your small town—people of all races and religions—how would you react? That was the question Geno Carr MFA '05 grappled with when he landed the role of police constable Oz Fudge in the Tony Award–winning Broadway musical Come From Away.
The show is based on a true story: When US airspace was closed on the morning of September 11, 2001, residents of tiny, isolated Gander, on the Canadian island of Newfoundland, became chance hosts to thousands of stranded travelers. In a quick study in global citizenship, the townspeople marshaled their resources to house, feed, and otherwise care for the visitors.
The challenge for Carr and his fellow cast members was to create roles based on people they knew only through videos and transcribed interviews. "We didn't want to do imitations of these people," says Carr, who also plays a New York rabbi and a Spanish-speaking gym teacher. "We wanted to capture their spirit." Perhaps most difficult to capture was the distinct Newfoundland dialect—"like a Minnesotan pirate from Ireland," he says.
For Carr, meeting the real Oz Fudge when the cast traveled to Gander to perform validated his efforts to stay true to Fudge's basic humanity. "I repeatedly was told how much I captured Oz," he says. "I just did honest research into who these people were to understand how I would respond in this situation, at that moment."
"... Something small—a smile on the subway or buying a stranger a cup of coffee—can make an impact."
Carr can trace his ability to understand characters from different backgrounds to his classes at Sarah Lawrence. He says the College's "collaborative, interdisciplinary educational style" mirrors that of the theatre world. He cites "Dramatic Improvisation" with the late Fanchon Scheier MFA '76 (theatre) and "Breaking the Code" script analysis with Kevin Confoy (theatre) as fundamental to his craft. "These classes helped me better understand the human condition so I could anticipate how my character would act in certain circumstances," Carr says, "to channel those quirky, idiosyncratic human elements that bring depth to a character, and how to read the clues the playwright places in the script."
"I loved having Geno in class," Confoy says. "He would do anything for his characters. He's tremendously quick-witted. His spontaneity is matched by insight and preparation."
The New York Times called Come From Away "a big bearhug of a musical" that is "as honorable in its intentions as it is forthright in its sentimentality." Carr, who has logged more than 700 performances, attributes the show's success to its honest storytelling about real people being kind to others at a time of great distress—what the Times called "heroic hospitality under extraordinary pressure."
"This show," Carr says, "is a reminder that we all have the same feelings, fears, and desire to be cared for. It tells us that kindness doesn't have to be a grandiose gesture like opening your house to strangers, but that something small—a smile on the subway or buying a stranger a cup of coffee—can make an impact."